(Shown above) The SPHS Mock Trial team that competed at last weekend's MN State Tournament included: front row (l to r), Lauren Seybolt, Nobras Sayidnour, Liana Snow, Najma Jamac, Sophie Matarrese; back row, Molly Leonard, Keira Dunn, Baylee Nygard, Nabiil Jamac, Tiernan Hopp, and Jasmine Dezurn. Not pictured are coaches Dan Clark and James Dunn.

Saint Peter High School's Mock Trial team wrapped up their season by competing in the Minnesota State Tournament this past Thursday and Friday in St. Paul. They competed with the top 16 teams in the state and placed 10th overall.

The Saints won their first matchup against Owatonna but lost the next two trials by only one point to Eastview High School and Benilde St. Margarets. Keira Dunn and TC Hopp were awarded All-State Attorney and All-State Witness Awards at the tournament.

"We had a great undefeated season with an outstanding group of kids who added to the already impressive legacy of SPHS Mock Trial. This trip was the eighth time qualifying for the state tournament since 2010." SPHS Head Coach Dan Clark said. "The state tournament was a great way to show the big city schools that St. Peter students know their way around a courtroom just as well, it was a great experience for everybody on the team and a big shout out to our attorney coach, Nicollet County prosecutor James Dunn who helped prepare the various legal aspects of the case."

Other years the Saints qualified for state (and the team's final standing), prior to 2023, includes – 2021 (11th), 2020 (4th), 2016 (9th), 2015 (5th), 2012 (tied 3rd), 2011 (10th), and 2010 (12th).

Minnesota State Mock Trial
2023 Final rankings
1. Nova Classical Academy
2. Wayzata
3. Apple Valley
4. Lakeville
5. Eden Prairie
6. Eastview
7. Watertown-Mayer
8. Benilde-St. Margaret
9. Hill Murray
10. ST. PETER
11. Woodbury/East Ridge
12. Cambridge-Isanti
13. Morris Area
14. Prior Lake
15. Buffalo
16. Owatonna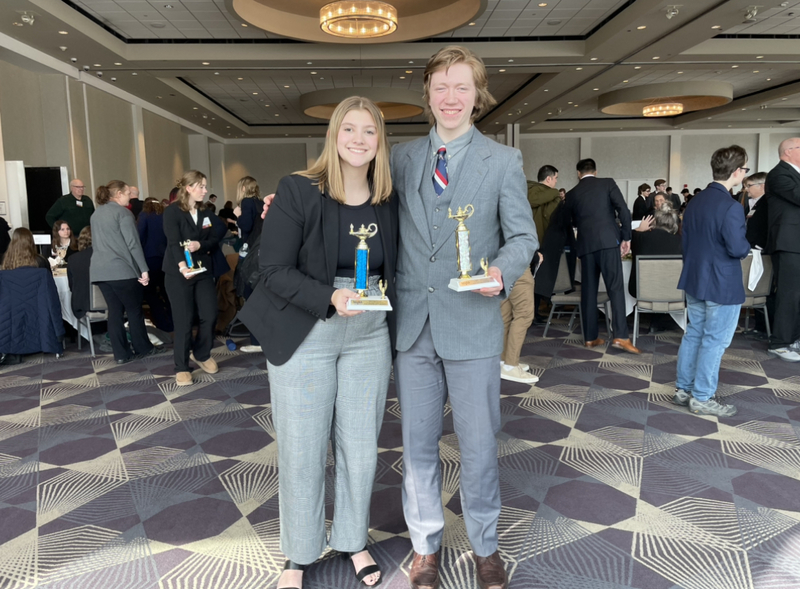 The Saints' Keira Dunn (Attorney) and Tiarnan Hopp (Witness) were named All State for their efforts at the recent Mock Trial State Tourney.