(ABOVE) SPHS junior Emmy Remmert, shown above vs. Blue Earth Area earlier this week, is one of around 35 girls volleyball players from Minnesota who are part of a poll asking, "Who is the top hitter in the state," through Prep Redzone's website.

Emmy Remmert & Josh Bosacker included Prep Redzone's state-wide top performer polls

Two Saints' fall sports athletes, junior volleyball player Emmy Remmert and senior football player Josh Bosacker, have received recognition through the Prep Redzone website, which covers high school sports around Minnesota.

Remmert is one of 35 players from around the state, in all four classes, who are part of a current poll that asks readers the question, "Who is the top hitter in Minnesota High School volleyball?" To vote for the Saints' junior standout, who has helped lead the 10th-ranked Saints to a 2-0 record so far, click HERE! Voting closes on September 6 at 11:59 p.m.

Bosacker was part of a similar poll that was posted on the Prep Redzone website in early August that asked, "Who is the Preseason (Class) AAAA Player of the Year in Minnesota." Voting for that poll ended on August 23 and Bosacker ended up second in the voting for Class AAAA Preseason Player of the Year. For more info on the results from that poll click HERE!

(An editor's note from Prep Redzone: Our corresponding poll is intended to be fun, and we do not set limits on how many times a fan can vote during the competition. This poll is specifically for fans to vote on the players that have been nominated and in no way discredits any other player who may not be mentioned in our poll.)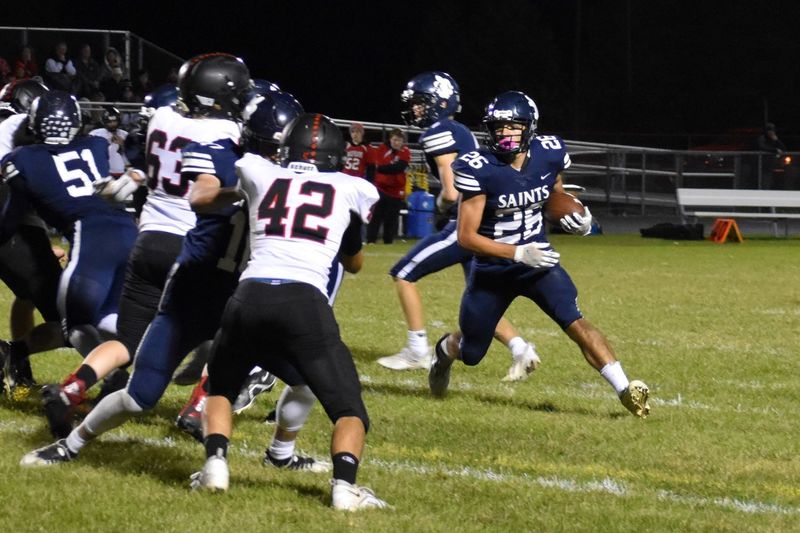 Josh Bosacker (26), shown here in the file photo from the 2022 season, recently was part of Prep Redzone's "Preseason AAAA Player of the Year" poll where he placed second out of more than 40 players.