Long-time Saint Peter High School physical education teacher and coach, Keith Hanson, was recently named this year's winner of the Distinguished Service Award for Saint Peter Public Schools.
In an effort to emphasize the importance of "excellence" in the Saint Peter Public School District, the Distinguished Service Award was established during the 2010-11 school year. Each year the award recognizes a staff member who exemplifies excellence in their job and for their commitment to the students and staff at Saint Peter Public Schools. The following is a profile on Keith Hanson about his career and time here with Saint Peter Public Schools: Hometown/HS alma mater: Hancock, Minn. College/degree(s): Mankato State University- BA Physical Education, Developmental Adapted Physical Education, Coaching minor. Masters of Education- Winona State University Years with St. Peter Schools: 29 as an educator, 31 as a coach In his own words, the following is a breakdown of positions Hanson has held during his career here at SPPS:
1991- I did my student teaching here in St. Peter at the elementary and high school, at the same time I did my coaching practicum with Craig Drager and the wrestling team. That spring I started coaching middle school girls track and field.

1992- I was employed by MVED as a DAPE Instructor and worked with students in St. Peter, St. Clair, Nicollet, and Le Sueur. I coached varsity football in Nicollet that fall, and I continued to work with the Saints wrestling program and middle school track.

1993 - Hired by the District to teach physical education, taking over for the legendary Frank Fredlund. I also joined the Saints football program as a MS coach and varsity team volunteer. I also continued in my role with the wrestling team and MS Track and Field. The rest you can say is history! I did take some time off away from MS Football when the boys were younger, because Carmen was coaching volleyball during the fall. Eventually, I got back into it when they were old enough to participate, and coached up until about five years ago. Now my fall seasons have consisted of officiating MS football games, working the chain gang, working cross country meets, and supervising volleyball matches.

1998- Jeff Portugue and I took over the schools' track and field programs as Jeff was named the head girls coach and I was named the head boys coach. What a challenging and fun first year! That was the year of the tornado. It was definitely a whirlwind season for us as we had to go practice at 6 a.m. each morning at Mankato West, then go to school for half days! Jeff and I continue in our roles currently. It's been a great relationship coaching together.

2002 - I added another head coaching position to my repertoire, as I took over the wrestling program from Coach Drager who was a great mentor in all things, including wrestling! I have also been Department Chair and PLC Leader for the Physical Education Department, for many years. I am currently the St. Peter Education Association president, and have served on many different committees for the District over the years.
What does winning this award mean to you? It means a lot! To be recognized by my colleagues and my administration is very humbling because there are many other people out there who should be recognized also for their work for the District. I am thankful for the wonderful people here in our District, our community, and to be honest this is the only District that I have really been involved with and it had me hooked all those years ago as a student teacher! How surprised were you when it was announced you were the winner? I was totally caught off guard, it was very creative in how they announced it! I was playing the game, and was wondering to myself "what's the joke here and why are they picking on me" it really didn't click until I saw the correct answer on the board, then I turned around and saw my two son's standing there clapping and Carmen right beside me recording! I was glad they were there to share that moment! Additional activities and comments: Hanson, who is the Saints long-time head boys track coach and wrestling coach, has served as an umpire and the head of the St. Peter Softball Association for more than two decades. Hanson has organized umpires for leagues, created schedules for the Rec Office and found umps for girls fastpitch for many years for free. He also helped get donors for the softball scoreboards and irrigation systems. Hanson also helped some of his autistic (adapted physical education) students to be managers, JV participants and, on occasion, he even brought them to the overnight tournaments, according to his wife and current SPHS social studies teacher, Carmen Hanson.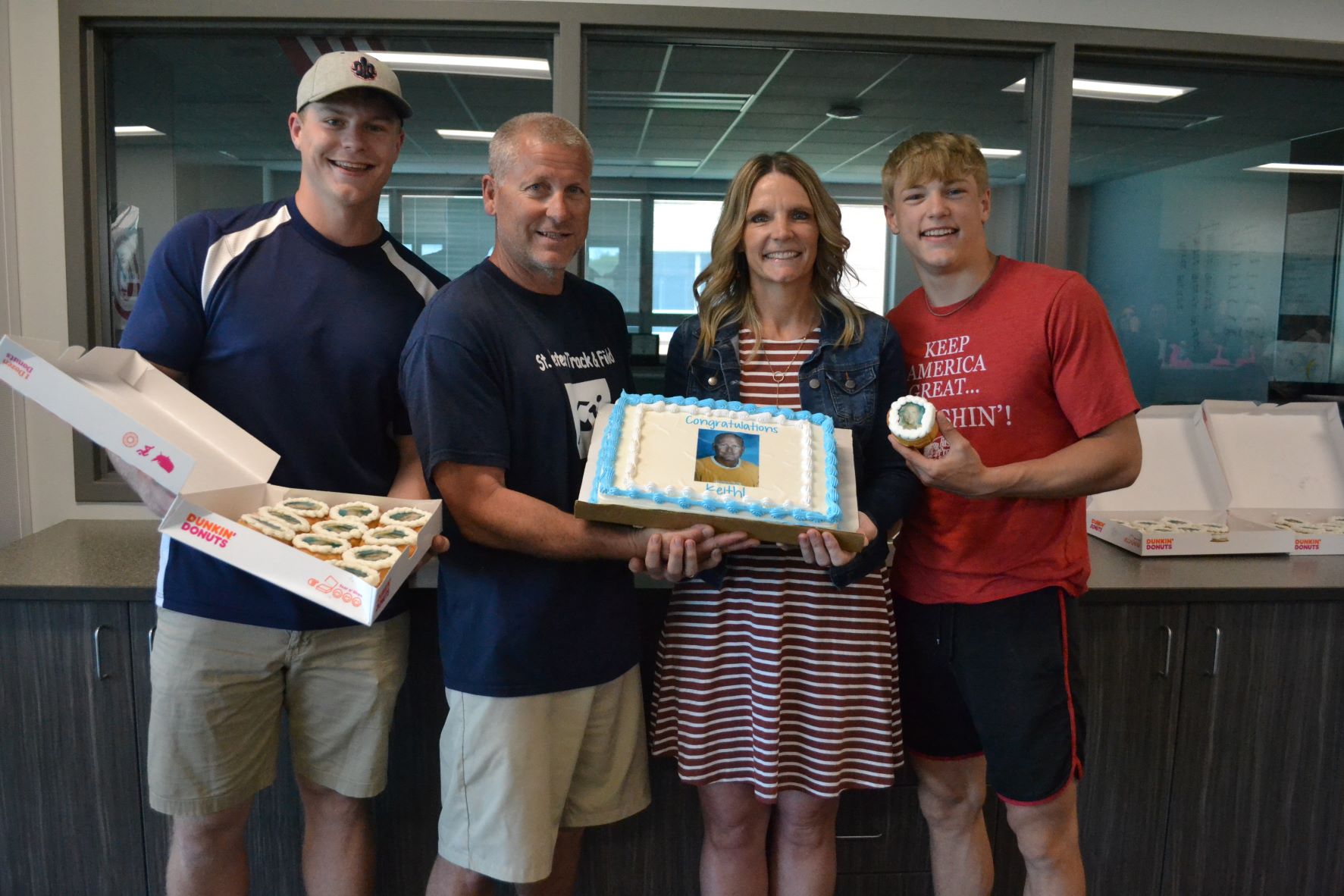 Long-time SPHS educator and coach Keith Hanson (second from left) was honored recently as the SPPS Distinguished Service Award winner for the 2021-22 school year. He is shown here with his son Brock, wife Carmen, and son Brogan. Not pictured is the Hanson's other son, Brady.