Under the direction of department coordinator, Ayan Musse, the Office of Education Equity presented to the school board at the monthly May meeting. Ms. Musse explained the mission of the department and complimented her staff on all they have accomplished this year. She presented a data summary of how many students and families have been impacted by the department. Together they have touched over 3000 students and families with various areas of connection over multiple interactions throughout the year.

Musse introduced her staff liaisons and explained their jobs consist of assistance working with parent and families, interpreting and translating, attendance, transportation and academics. The team includes Coordinator Ayan Musse, Student Support Services, Spanish Interpreter and Family Liaison Liliana Figueroa and Maripsa Romero, Student Support Services, Somali Interpreter and Family Liaison Buraq Ahmed.
The department just added a new team member Charmayne Klah who will be a Student Support Services, Native American and Family Liaison. Goals for the upcoming school year include continuing to be student and academic focused, establish a group in the middle school and high school, collaborate with Social Workers and Counselors on SEL needs ,establish preventive strategies and revisit the data collecting procedures.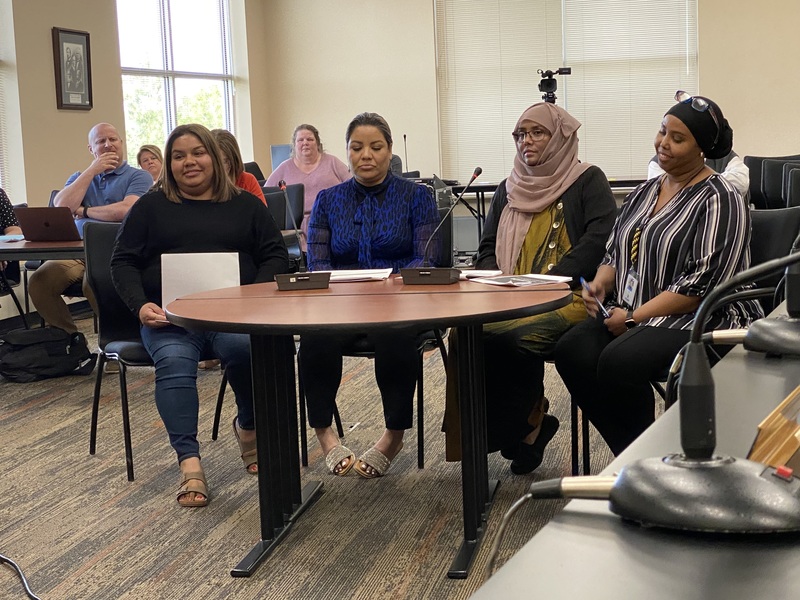 For more information or to learn more, visit our Office of Education Equity on our website.
Photo: (L to R) Maripsa Romero, Liliana Figueroa, Buraq Ahmed and Ayan Musse
Parent Testimonials
"It is very helpful because of the communication that we have, if we call or text you all always respond. Or if something comes up with our children you call and let me know. Without you both we would not have the communication with staff. It helps us a lot." Parent, Rosalba Toscano Gallardo
"You helped my family tremendously, Previously my Son has falling behind academically and he was recommended to attend Rock Bend, we were told he won't be able to graduate on time, So he was sent to Rock Bend, and he continued not to do well at Rock Bend as well because he felt overwhelmed and embarrassed. Because of your help he became the student of the month and he got caught up on all of his assignments and he is back at the High School." Parent, Anab Hussein