After 30 years as head coach, Mary Lager retiring at the end of 2022 season
Long-time Saint Peter High School swimming and diving head coach Mary Lager recently announced her retirement, at the end of the 2022 season, after a stellar 30-year career in leading the Saints program. As the 2022 season winds down, she took some time recently to reflect on her career as part of a Q&A.
The following are Coach Lager's responses to some questions from the SPPS Communications staff about her coaching tenure here:
Q - What was your previous experience with the sport of swimming/diving before starting your coaching career?
A - From 7th grade through 12th grade, I swam on the Faribault High School swimming and diving team with my identical twin sister. Terry. In the summers we swam with the Northfield Swim Club. Over those six years we became very good at swimming and diving.
Freshman year of college I competed in gymnastics at Gustavus Adolphus. I took one year off from athletics, but returned to compete in swimming and diving my junior and senior years of college.
I started my professional career coaching the Men's and Women's Diving Team at Gustavus during the 1986-87 academic year. The next two years, 1987-1989, I taught physical education aquatic classes at Columbia Heights High School, and served as Head Coach of the Boys and Girls swimming and diving teams. During the 1989-90 school year I coached diving at Mankato West High School for both the boys and girl's teams.
Q - How did you get involved with coaching the St. Peter swimming & diving program?
A - To comply with gender equity, Saint Peter High School was going to offer Girls Swimming and Diving. A friend recommended me for the head coaching position. I interviewed with Ed Rundell, the Athletic Director, and was hired to start the new program in the fall of 1993.
Q - What have you enjoyed most about your coaching career?
A - I love the athletes! Over my career I have enjoyed getting to know so many girls. I like helping them improve their skills at practice and watching them shine in competition. For me, nothing is greater than coaching ordinary girls to achieve extraordinary results.
Q - What have been the biggest challenges you've faced as the Saints coach?
A - My biggest challenges have been with the pool itself, regarding safety. Over my career I've faced problems with poor ventilation, chemical imbalances, and the depth of the diving well. I am very thankful that each time we were in need of a pool, Gustavus was flexible and allowed the high school team to train and compete at their facility. The longest issue was from 2012 through 2016 when we could not dive at the high school pool. Our divers practiced at 6 a.m. at Gustavus and we hosted all of our home meets at the college. The division of the team due to separate practices was very difficult for me. As Head Coach those five seasons I worked an additional 300 hours.
Q - It always seems like the Saints swimming & diving team has a real family-like feel to it. What would you say is the key to that?
A - From the beginning the Saints Swimming and Diving Team has been my "baby". It was my job to lay a solid foundation and build on that structure. Similar to nurturing and raising children. Every girl that joined the team was valued, appreciated, and treated with respect. I tried to include everyone in everything, even when we had 60 girls in the pool! As the program grew, I started a mentoring system. Older athletes partnered with first year athletes to help them integrate and feel comfortable on the team. Creating a family atmosphere helps athletes develop close personal bonds with their teammates and coaches.
Q - What was it like being able to coach your daughters?
A - Coaching my three daughters was an amazing experience. At the pool, I was their coach and they were athletes. My girls knew, or quickly learned, their boundaries at the pool. One of my fondest memories was coaching both Alissa and Ashley at their first State Tournament appearance in 2007. Amy joined swimming in 2008 as a 7th grader. It was wonderful having all of my daughters on the team at the same time because I loved being around my children.
Q - What would you tell younger girls contemplating going out for swimming & diving?
A - Swimming and Diving is a FUN activity that anyone can learn to do. The more you practice the better you become. How skilled you become is up to you! Swimming and Diving allows everyone to participate in practice and competition.
Q - What words of advice would you give to your successor as the Saints' head coach? -
A - "People don't care how much you know, until they know how much you care." This powerful quote has stuck with me over my professional career as a teacher and coach. If my successor keeps this quote in mind while they are coaching, they should be very successful.

* * *
RETIREMENT PARTY FOR COACH LAGER
The SPHS Swim & Dive Alumni group is hosting a Retirement Party for Coach Lager on Saturday, Oct. 29 from 6 to 10 p.m. at the Red Men Club in downtown St. Peter. Those planning to attend are asked to please RSVP to Alissa by Oct. 22nd by calling 507-327-2783.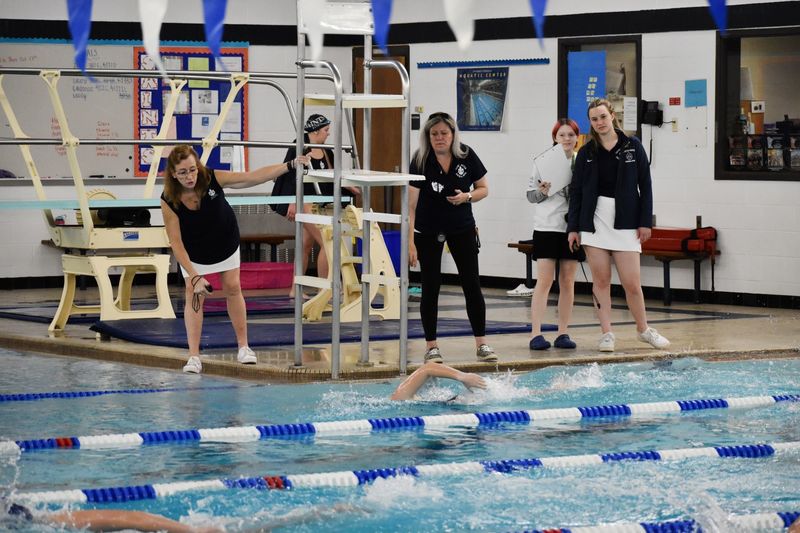 Coach Mary Lager (far left) and her coaches encourage some of their swimmers during their dual meet with Mankato East earlier this season.