While the season and her prep tennis career may be over, Saint Peter High School senior Amelia Hildebrandt leaves behind a strong legacy after playing at the varsity level for the past six years.

Hildebrandt finished her career with 99 career varsity wins, and more than likely would have gone well past the century mark if not for the Covid-shortened season during her sophomore year (fall of 2020). That win total, according to Coach Aaron Rothenberger puts her in the top five all-time for the Saints in career wins, which is impressive given the rich tradition of the Saints' girls tennis program.

"Amelia has been very valuable to our team ever since she started as a seventh grader," Rothenberger said. "She has had an incredible career over the past six seasons. She has put in thousands of hours towards her game and physical conditioning to play at her best each and every match. Her senior year was a great finish to her career with her not only winning the most matches of her career, but also leading her team to winning a Big South Conference championship and also making it to the Section 2AA team final four for the second year in a row. We will miss her leadership on and off the court, we will miss her personality, and we will miss having her on the team!"

The versatile senior captain ended the 2022 campaign with a 26-2 mark playing singles and doubles for the Saints, and was a two-time Section 2AA quarterfinalist often playing against opponents from much-larger schools those seasons. She played singles in 2021 at the Section 2AA individual tourney and teamed up with classmate Macy Weller to win two of three matches at this year's Section 2AA Individual event.

Hildebrandt was six-time girls tennis letter winner, five-time member of the Big South's All-Conference team, team MVP her ninth grade year and a team captain for her senior year. She was also a member of the 2017 Section 2A runner-up team, which just missed earning a state tourney berth.

After such a stellar career, Hildebrandt didn't hesitate when asked what she'll miss most about being a part of the girls tennis team.

"I definitely enjoyed the people the most, not only from my own team but other teams as well," she said. "All of the girls that have been on the Saint Peter team throughout the years I've played have been some of the sweetest humans I've met. They are all so welcoming, and you really become a close-knit family during the short time you have. Girls from other teams are also really kind and it was great getting to meet girls from other towns and becoming friends with them as well!"

Her future plans include possibly playing tennis at the D-III collegiate level, but is still undecided on a school. She hopes to major in political science and pre-law, with an emphasis in civil rights and social justice law.

As part of her legacy, Hildebrandt encourages young girls who are looking for a new sport or activity to get involved with, as they get into their middle and high school years, to give tennis a try.

"I think if a girl is considering tennis as a sport to try it out," she said. "There's always captains practice in the beginning of the season that is organized by seniors and it's a great, lowkey, way to try out tennis and get to meet the team. It also doesn't matter what grade you join, we have players from 7th to 12th grade and they all range in different skill sets. Tennis has been one of the things I look forward to the most nearing the school year. With sleepovers, carboloads, get-togethers, and lots of other team bonding activities, the team becomes super close and makes the whole season a blast!"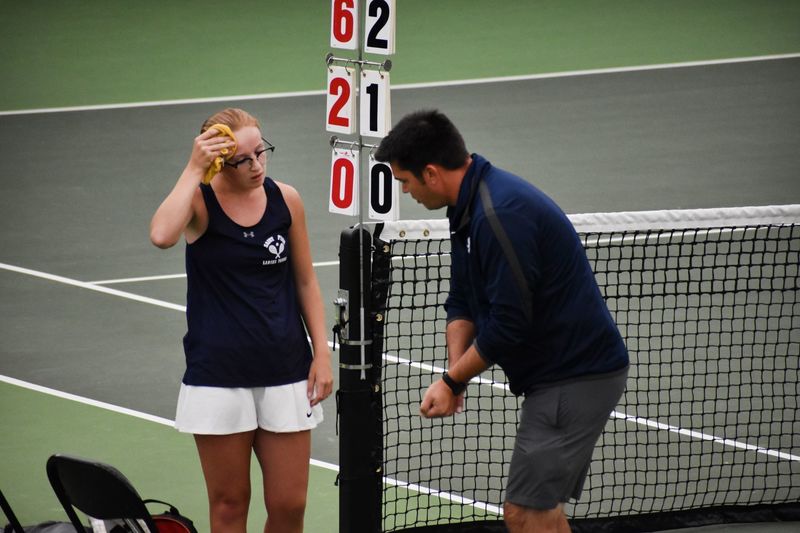 Saints' senior tennis standout Amelia Hildebrandt (left) talks strategy between sets with Coach Aaron Rothenberger during the Section 2AA team tourney at Gustavus.