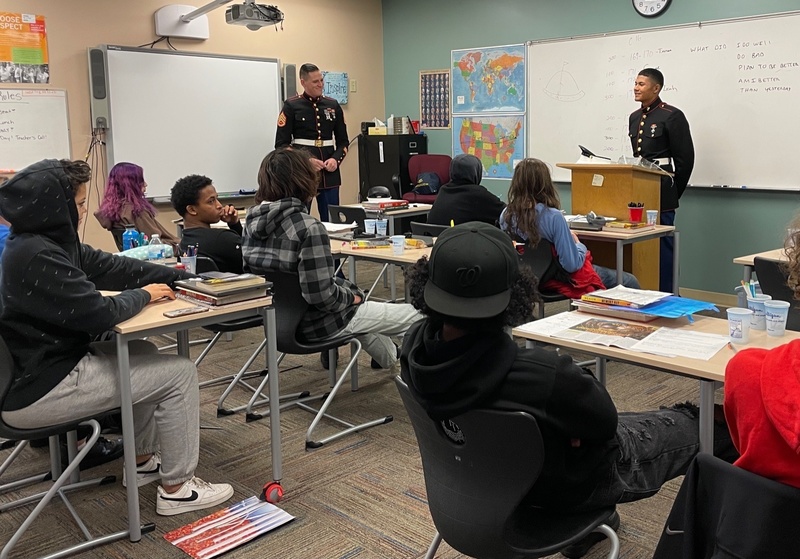 Rock Bend Area Learning Center welcomed guest speakers Marines Staff Sergeant Mason Chamberlain and Private Isaac McKenzie to share inspiration for students deciding what the future may look like after graduation. Staff Sergeant Chamberlain talked about how he started as a welder before joining the Marines. He told how various poor choices he made in life left him wanting more. After joining the Marines, he was inspired to be a teacher and decided education was the career he wanted to pursue. He now has over 12,000 hours of teaching and works with over 25 high schools and colleges. His message to the students explained you only have two things in life you can control; your attitude and the effort you put forth. "Ask yourself each day, am I better than yesterday? If not, then change your plan and keep putting in the work."
McKenzie, a Rock Bend alumni, graduated from St. Peter last year and says he owes the Marines for giving him drive and motivation. His ultimate goal is to own a business as a realtor and the Marines are helping him meet that goal by teaching him about business, inventory skills, and time management in his current job as an Embarkation Specialist. He just finished boot camp and will head to California next week to start infantry training then to logistics school in North Carolina.
This visit was arranged by McKenzie's former teacher, Mr. Shawn Simonson, who continually seeks to connect alumni with current students. You can find out more about the programs Rock Bend ALC offers by visiting https://www.saintpeterschools....
Photo at the top (l to r): Marines Private Isaac McKenzie, Rock Bend Principal Jana Sykora, and Staff Sergeant Mason Chamberlain